Kim Stanley Robinson hosted by Michael Lerner
Presented in Collaboration with OMEGA Resilience Funders Network, Forsight Analyis Nexus Initiative (FAN), Millennium Alliance for Humanity and Biosphere (MAHB), and New School at Commonweal.
Kim Stanley Robinson's "Ministry for the Future" has received widespread acclaim. It has become a fundamental speculative fiction text for those interested in finding hope in climate change and the global polycrisis. Robinson imagines a heat spike in India that kills millions. The secretariat of the Paris Accord sets up a Ministry for the Future in Zurich and names an ex-Irish PM to head it . The story describes how she succeeds in stabilizing the climate. Here is some of the critical acclaim:
ONE OF BARACK OBAMA'S FAVORITE BOOKS OF THE YEAR
"The best science-fiction nonfiction novel I've ever read." —Jonathan Lethem
"If I could get policymakers, and citizens, everywhere to read just one book this year, it would be Kim Stanley Robinson's The Ministry for the Future." —Ezra Klein (Vox)
"One hopes that this book is read widely—that Robinson's audience, already large, grows by an order of magnitude. Because the point of his books is to fire the imagination."―New York Review of Books
"If there's any book that hit me hard this year, it was Kim Stanley Robinson's The Ministry for the Future, a sweeping epic about climate change and humanity's efforts to try and turn the tide before it's too late." ―Polygon (Best of the Year)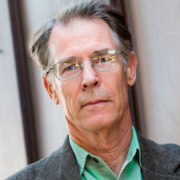 Kim Stanley Robinson is an American science fiction writer. He is the author of more than twenty books, including the international bestselling Mars trilogy, and more recently Red Moon, New York 2140, Aurora, Shaman, Green Earth, and 2312. He was sent to the Antarctic by the U.S. National Science Foundation's Antarctic Artists and Writers' Program in 1995 and returned in their Antarctic media program in 2016.
In 2008 he was named a "Hero of the Environment" by Time magazine. He works with the Sierra Nevada Research Institute, the Clarion Writers' Workshop, and UC San Diego's Arthur C. Clarke Center for Human Imagination. His work has been translated into 25 languages and won a dozen awards in five countries, including the Hugo, Nebula, Locus, and World Fantasy awards. In 2016 asteroid 72432 was named "Kimrobinson."