Sunita Narain hosted by Michael Lerner
COVID-19: Learning from the Crisis
&

Re-imagining the Future for Environmental and Climate Challenges
Presented in Collaboration with OMEGA Resilience Funders Network, Forsight Analyis Nexus Initiative (FAN), Millennium Alliance for Humanity and Biosphere (MAHB), and New School at Commonweal.
The Omega Collaborative hosted this webinar with Sunita Narain, a leading Indian activist and environmentalist on May 27th, 2020 to discuss COVID-19, and how to learn from the crisis and reimage the future for environmental and climate challenges.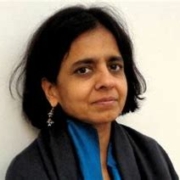 Sunita Narain is a world-renowned Indian writer and environmentalist, known for using knowledge and compassion for social transformation. She is recognized as one of the leading voices for fundamental science-based humanitarian change, valued for her honesty and ability to work with tribal communities in India, senior government officials, and international leaders. Her influence is welcomed throughout the global south, across Asia and the western world. In 2016, Time magazine included her in their list of the most influential people in the world.